Welcome & Notices!
We are now providing free Identity Edge magazine subscriptions to our clients.
We have now made available to our clients, free Identity Edge magazine subscriptions. Identity Edge is a new promotional industry magazine for end users. It is loaded with new products, new ideas, top trends and important information for those who purchase or authorize the purchase of promotional and other marketing products. We are very excited to bring this new resource to our customers.
If you do not currently receive this complimentary subscription, please ask.
Establish yourself!
Similar to medical care, you should establish yourself with a promotional product specialist before you need them. Your logo, artwork and branding requirements will be on file. The promotional product specialist will be on the lookout for new products and marketing techniques that will help deliver your message. There is no cost to establishing your company with us. We even have many products available with 24 hour production if you are already established with us. Nothing to lose and everything to gain.

Welcome to our website!
"We get new customers for our clients!". That's our bottom line and we obtain this goal by using effective promotional products and other tools. Our mission is to supply you with the best possible marketing plan to obtain your goal. We are a marketing and advertising company that uses promotional products as the media and have designed many marketing solutions that are not available anywhere else. There are over 950,000 promotional products in our database, plus we spend many weeks each year, traveling to find new tools in helping us keep our clients ahead of their competitors. We work with premier suppliers, and are dedicated to providing you with top quality promotional products to help ensure the success of your business. Our experienced and highly trained staff are ready to take on your marketing needs and challenges. No matter what your budget is, we have a solution for you.
Featured Item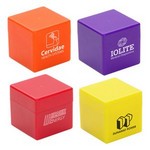 .3 Oz. Cube-It Lip Balm
Choose your cube container color and add a brand to create a promotional product that's trendy, useful and designed to get your promotional campaign on a roll! These compact handouts pack a big promot...
$1.44 - $1.55
Featured Blogs
Back in the early 70′s when I was growing up, I suspect marketing was like shooting fish in a barrel (not that I had ever tried that before, but the results sound pretty guaranteed). I remember ...
What Our Customers Are Saying

Robert is an articulate and creative individual with vision, dedication and determination. Robert possesses the ability to thoroughly assess situations and make the perfect call. While working with Ro...
Mary Anne Jordan
May 16, 2013